« Casque de luxe - Luxury headphones - Denon AH-D7100 | Page d'accueil | La fille du week-end, the week-end girl - Julia Frauche by Eric Guillemain for Vogue Brazil August 2012 »
17/08/2012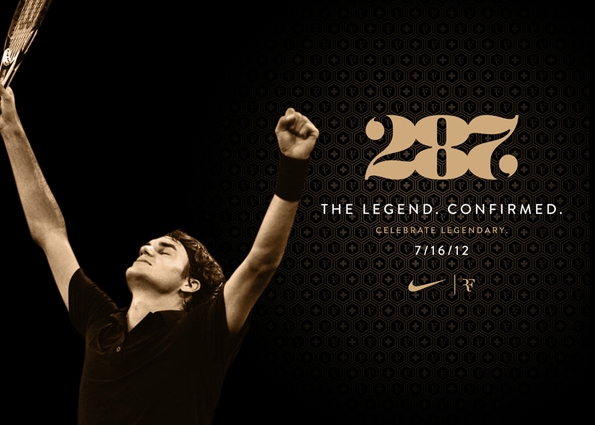 287, un nombre énigmatique pour la majorité d'entre nous, même pour moi ! 2 800 000 minutes, 48 000 heures, 2009 jours, 287 semaines... pour les amateurs de tennis ou tout simplement pour les personnes qui le respectent en tant que sportif, en tant qu'homme, il s'agit d'un record, celui du tennisman suisse Roger Federer à la place de numéro 1 mondial. Nike qui est partenaire de Roger Federer depuis le début de sa carrière, souhaitait rendre hommage à son champion une nouvelle fois.
287, an enigmatic number for the majority of us, even for me ! 2 800 000 minutes, 48 000 hours, 2009 days, 287 weeks... For tennis enthusiasts, or simply for people who respect him as an athlete, as a man, it's about a record, the one of the swiss tennisman Roger Federer being number one in the world ranking. Nike which is partner of Roger Federer since the beginning of his carrier, wanted to pay tribute to its champion one more time.
La carrière de Roger a pris une autre dimension lorsque en février 2004 après l'Open d'Australie il est devenu numéro 1 mondial pour la première fois... Durant toute ces années, à plusieurs reprises Nike a multiplié les attentions pour son joueur de tennis fétiche, lui proposant des modèles de chaussures exclusifs, personnalisés, mais ces modèles n'étaient jamais destinés au grand public.
Après la victoire finale à Wimbledon cette année en juillet et avoir retrouvé une position tout en haut de la hiérarchie, Nike voulait célébrer les fantastiques performances de Roger. C'est la Air Zoom Vapor 9 Tour, l'actuelle chaussure de Roger, qui a été déclinée dans une livrée spéciale. Plus qu'un coloris, je pense que nous pouvons parler de coffret collector. Cette version de la Zoom Vapor 9 Tour est proposée dans une livrée noir et or avec le logo RF sur la languette et la signature 287 sur le talon. Chaque coffret sera distribué avec une carte signée par Roger en personne et l'authentifiant.
Mais si comme moi vous souhaitiez changer de chaussures de tennis, ne rêvez pas ! Elles n'ont été vendues qu'une seule journée au prix de 287$, le 16 juillet sur le Nike Store Us et les 287 exemplaires sont rapidement partis. Ah oui, vous pouvez les trouver sur ebay.com pour 2300$, presque 10 fois leur prix de vente ! En bonus je vous mets une courte sélection de chaussures exclusives Roger Federer.
Roger's carrier took an other dimension when in february 2004, after Australia Open he became world number 01 for the first time... During all these years, few times Nike did multiplied attentions for its fetish tennis player, offering to him exclusive pair of shoes, customiszed, but these models were never meant for public.
After his final victory at Wimbledon this year in July and coming back at the top of the hierarchy, Nike wanted to celebrate the fantastic performances of Roger. It's the Air Zoom Vapor 9 Tour, the actual Roger's shoes, which were edited in a special livery. More than on color scheme, I think we can speak about a collector set. This version of the Zoom Vapor 9 Tour, is proposed in a black and gold livery with the logo RF on the tongue, and the 287 signature on the heel. Each package will be distributed with a card signed by Roger himself to authenticate it.
But if like me, you wish to change your tennis shoes, don't dream ! They were sold only during one day pricing at 287$, the 16th of July on the US Nike Store, and the 287 copies were gone quite fast. Ah yes, you can find them on Ebay.com for the price of 2300$, almost 10 times the sale price ! AS a bonus I give you a short selection of exclusive shoes Roger Federer.
00:10 | Lien permanent | Commentaires (0) | Tags : nike, roger federer, tennis, shoes, chaussures, limited, edition, édition limitée, sport, luxe, luxury, ebay, record, box, set, rare, gold, black, air zoom vapor 9, 287, name 287, 287 weeks, number one, 1, champion, air zoom vapor 287 |
|
del.icio.us |
|
Digg |
Facebook