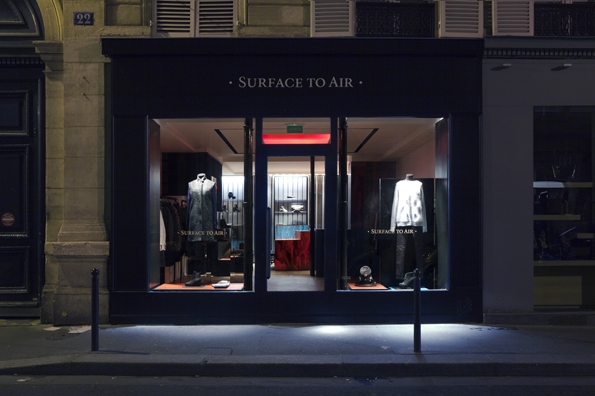 Le label Surface to air fait parti de ces marques dont la diffusion et la discrétion contrastent avec la renommé internationale dont elles bénéficient. Tokyo, Berlin, Londres, New-York, São Paulo, les capitales mondiales de la mode et du style connaissent cette signature parisienne. Si à la base Surface to air est un concept pluridisciplinaire imaginé dans les années 2000, la première collection homme a été lancée en 2004, celle pour femme en 2007 et ce n'est seulement que depuis la moitié du mois de décembre dernier que les femmes ont leur espace dédié.
The Surface to air label is part of these brands which distribution and discretion are contrasting with the international reputation they have. Tokyo, Berlin, London, New-York, São Paulo, world capitals of fashion and style know this Parisian signature. If at the beginning Surface to air is a multi-discipline concept created in the 2000s, the first men collection was launched in 2004, the women one in 2007, and it's only since the middle of December that women have their dedicated space.
Cette deuxième boutique parisienne, la première Rive Gauche, située au 22 Rue de Grenelle, sera exclusivement consacrée à la ligne femme. Nous la devons à l'architecte Federico Masotto. Un espace qui offre un certain luxe contemporain, idéal pour mettre en valeur les différentes pièces qui composent la collection. Moi qui connaît mal ce label, cela me fait une adresse supplémentaire à découvrir à Paris !
This second Parisian shope, the first on Rive Gauche, located at 22 Rue Grenelle, will be completely dedicated to women line. We owe this one to the architect Federico Masotto, a space which offers a modern luxury, ideal to enhance the different pieces of the collection. As I don't really know this label, it's another new address to discover in Paris for me !