« La fille du week-end, the week-end girl - Paz Vega by Gianluca Fontana | Page d'accueil | Dior Homme FW2013 - Back to the futur »
21/01/2013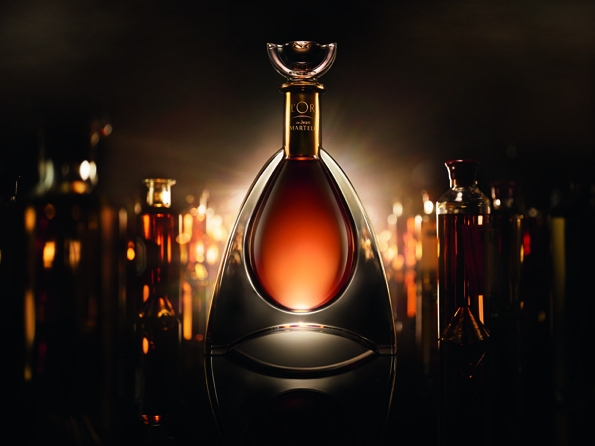 Entre nous et le cognac c'est une longue histoire de temps, une patiente histoire de désirs... si vous ne le saviez pas, je suis à Paris depuis déjà presque une semaine et je rédige ce post alors que la neige tombe dehors, des conditions que je trouve idéales pour débuter la semaine autour d'une belle bouteille du plus prestigieux cognac de la maison Martell : l'Or de Jean Martell et son flacon designé par Eric Gizard.
There's a long story between humans and cognac, an enduring love story... in case you didn't know, I've been in Paris for almost a week and I'm writing this post as snow falls outside; ideal weather conditions for starting the week with a nice bottle of the Martell house's most prestigious cognac : l'Or de Jean Martell in a flask designed by Eric Gizard.
Suite à une invitation de Maison Martell, en 2011, j'avais eu le plaisir de goûter ce fabuleux cognac, un grand moment gustatif. Je peux vous certifier que l'analogie d'une telle eau-de-vie avec le métal précieux n'est pas usurpée. Elle représente l'union de 4 crus exceptionnels, l'assemblage de plus de 400 eaux-de-vie, dont certaines plus que centenaires. Nous sommes dans la rareté absolue, une richesse qui comme l'or provient de la terre et prend tout son sens, sa valeur, entre les mains de l'homme.
Une analogie encore évidente car elle représente aussi l'association d'un blend d'exception et d'un flacon en Cristal de Sèvres. Une partition qui se rejoue, la nature et le savoir faire, la main de l'homme et le talent du designer Eric Gizard qui autour d'une rencontre unique avec Martell a imaginé ce flacon raffiné. Je ne sais pas si l'idée fut simple à mettre en œuvre, mais elle représentait la volonté de ritualiser le service et la gestuelle qui l'accompagne. Traduction faite du concept, on imagine plus facilement la présence de peaux multiples... la housse de tissu thermoformé dévoile un dôme de cuir, protégeant lui le flacon en Cristal de Sèvres. Une fois Libérée de son ciel (le dôme), la carafe et son socle sont prêts à rayonner sur les étagères pour le plaisir, la passion, des collectionneurs et fins connaisseurs internationaux.
En plus d'être élégant le socle réserve quelques discrètes surprises. Il permet d'accueillir un livret de présentation inséré dans un petit compartiment et met également en scène un second bouchon lui aussi glissé dans la base. Lorsque la carafe est sous son dôme, elle est coiffée d'un bouchon de transport cylindrique mais une fois exposée, le bouchon d'apparat retrouve sa place d'origine. Comme pour amplifier toute la magie du cognac et révéler l'ensemble de sa robe, un miroir est posé au dos de la carafe.

Devant ce luxe de détails, on comprend mieux pourquoi des maisons comme Martell, Saint-Louis, Hermès ou Chevalier Édition ont fait appel à Eric Gizard. Le fin mot de l'histoire ? C'est souvent une question d'ivresse et de flacon ! Le cognac est à consommer avec modération.
Following an invitation from Maison Martell in 2011, I had the pleasure of tasting this fabulous cognac. It was a great moment in wine tasting. I assure you that the analogy of such an eau-de-vie to precious metal is well deserved. It represents the union of 4 exceptional vineyards and the assembly of over 400 brandies, some over a hundred century old. It is an absolute rarity, a wealth that, like gold, comes from the earth and takes on its full meaning and value in the hands of man. An analogy still more obvious, because it also speaks to the pairing of the exceptional brandy mix with a flask made of Sèvres Crystal. Nature and knowledge combine to make this masterpiece, via the hands of man and the talent of designer Eric Gizard (who invented this sophisticated flask in a single meeting with Martell).
I don't know if the idea was easy to execute, but it certainly fulfills the desire to make a ritual out of serving the drink. Translating this concept to reality, we can more easily imagine the presence of multiple skins... the thermoformed fabric cover reveals a leather dome that protects the crystal flask. Once it's free from the dome, the flask and stand are ready to shine brilliantly on the shelf, providing pleasure and excitement to collectors and international connoisseurs.
In addition to being elegant, the stand holds a few hidden surprises. It offers you a presentation booklet tucked away into a small compartment as well as a second stopper, also wedged in the base. When the flask is under the dome, it's covered with a portable cylindrical stopper ; but once it's exposed, the more luxurious stopper takes its original place. As if to magnify the magic of the cognac and reveal the entirety of its color, a mirror is placed behind the flask.
Looking at these luxurious details, we better understand why houses like Martell, Saint-Louis, Hermès and Chevalier Édition called on Eric Gizard. Is this the end of the story ? That's usually a matter of drunkenness and flask size ! Cognac should be consumed in moderation.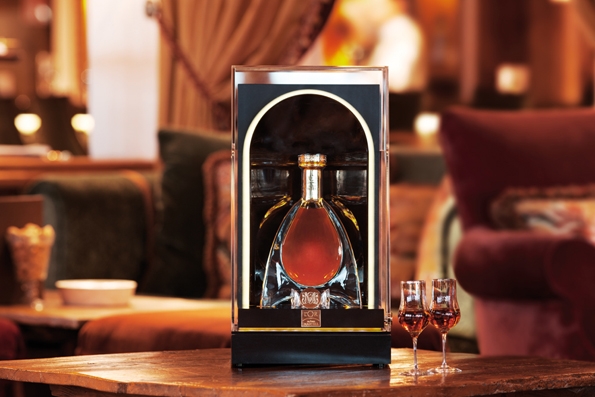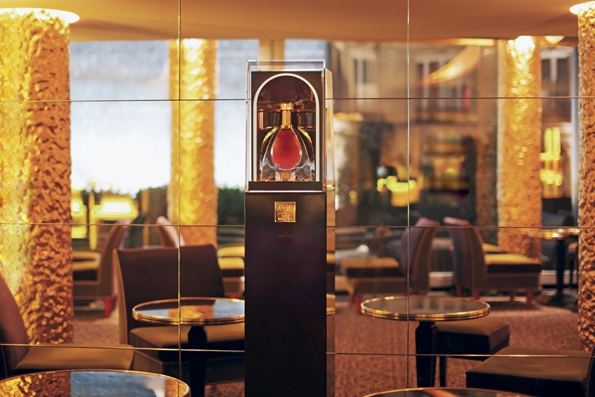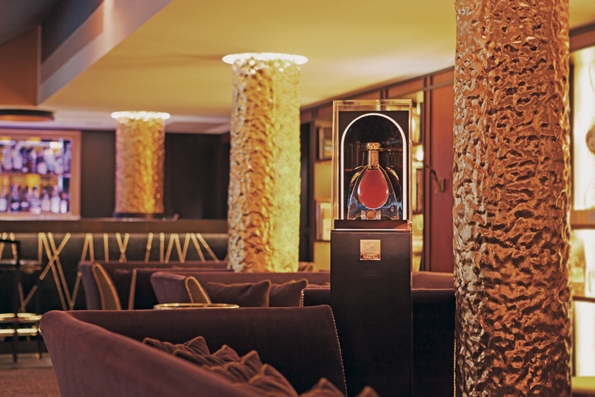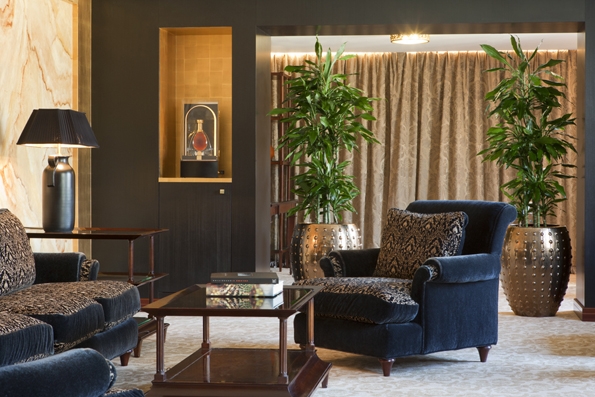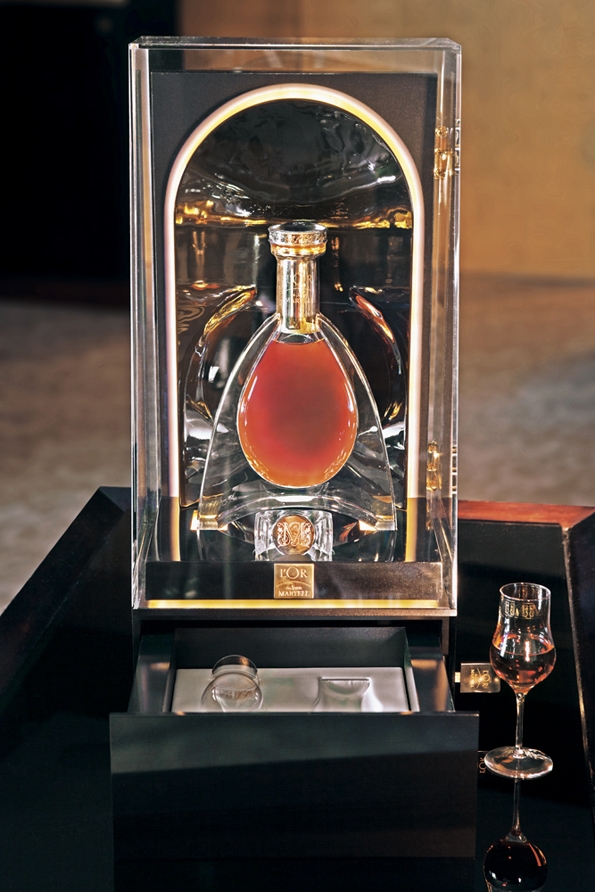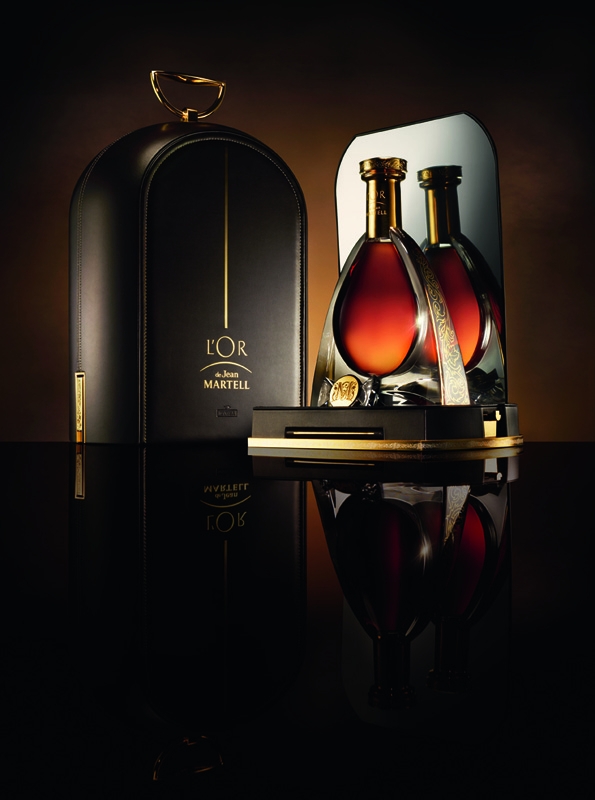 00:05 | Lien permanent | Commentaires (0) | Tags : l'or de jean martell, martell, cognac, collaboration, eric gizard, designer, design, or, jean martell, rare, coffret, box, édition, edition, limitée, limited, chai, borderies, région, france, french, art de vivre, lifestyle, liquor, luxury, luxe, histoire, héritage, legacy, prestige, bottle, craftmanship, craft, élégance, elegance, eau-de-vie |
|
del.icio.us |
|
Digg |
Facebook